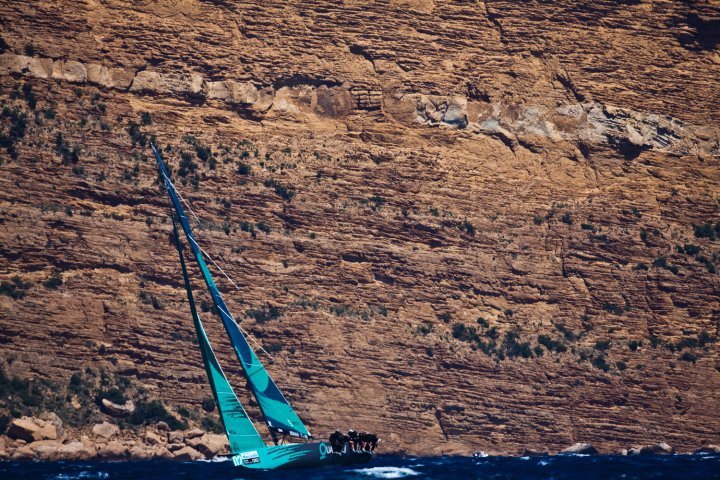 Making the Super Yacht Super-Perform.

Recent years have seen bigger and bigger yachts push technology to the limits to create superyachts that sail as responsively and rapidly as their smaller race-bred cousins. Sailmaking has had to take giant leaps to create sails that power this new generation of super racer-cruisers in a way that satisfies their demanding owners. Quantum's membrane sail gives a more stable foil profile, resulting in better light wind performance and acceleration, with improved shape retension as the wind increases.
Want to learn more? Click here

A Sail Gets Bigger - So Do the Solutions

Obviously the larger the sail, the heavier it gets. However the membrane sail will be around 15-20% lighter than the equivalent conventional panel sail, with greatly improved stretch resistance and shape retention.Headboards and fittings have come in for some serious rethinking as well with new shapes and materials combining strength, lightness and durability.

Quantum Special Projects Group

Quantum is committed to designing and producing world class cruising sails. A large cruising yacht's specialized needs requires a greater collaboration between sailmaker, boat designer, rig manufacturer, boat builder, project manager and owner. A high level of engineering is required since almost everything is custom. To support the needs of this market, QSDG has created an in-house group drawing on resources from around the world, which is focused on developing sails and systems for large custom yachts. Engineers, designers, sailmakers, and sailors, their specialized skills, technical know-how, and extensive experience are available during every phase of the project, and they are there to insure the highest levels of service and support after the sails have been installed and successfully tested. With facilities in Palma, Newport, St. Maarten, Auckland, Capetown, and virtually anywhere large cruising yachts sail, the team stands ready to put its collective experience to work to take care of the needs of the superyacht sailor.

Fusion M Technology

No holds barred flat out performance is the design criteria. Fusion M smart structure integrates loadings throughout the whole sail so that loadings are shared evenly. Gone is the principle of trying to place fibers along primary stress paths. Fusion M is an adaptable sail structure that transfers loads as they increase instead of allowing loads to concentrate in high load areas and distort the sail's shape.
More on Fusion M and IQ Technology
Proportional Strain, "Isostrain"

It is the first sail to strain proportionately (isostrain). This makes Fusion M sails faster and easier to trim through a wider wind range. Fusion M is custom engineered on a sail by sail basis. Instead of being built using the traditional "load path" model, Fusion M sails utilize an integrated fiber network that addresses sail loadings as a whole. Fusion M addresses the reality that loads exist in all directions at any given point in the sail. Fusion M's complex, dense, fiber matrix allows each part of the structural system to support the rest. Fusion M's smart structural system is "isostrain" instead of load path, which means there is no distortion.